WORLD FAMOUS DJ E.M. - BIO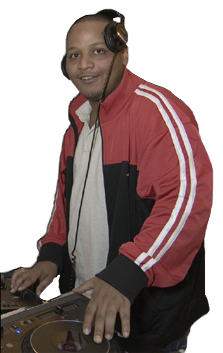 To party with DJ E.M. is to truly experience a connection that fills your ears and the airwaves with unparalleled energy and contagious enthusiasm for life, movement and music.
Born and raised in the Lower East Side of Manhattan, and being exposed to family and friends in the DJ'ing industry, DJ E.M.'s talent and ear for music developed speedily as an adolescent. He acknowledged his gift and similar to every DJ in the industry, his career started as being the "Official Block Party DJ of the Neighborhood". As the fire hydrant was turned on and the barbecues roasted, the neighborhood danced in delight to the incredible sounds provided by DJ E.M. Word of mouth spread quickly and simultaneously, party-bookings as well. Soon enough, his club venue debut was at The Hot Club, NYC in 1996. From that point on, E.M. knew that DJing was his calling and made the commitment to always bring his passion, precision and perseverance to each performance. The career of DJ E.M. simply flourished from then on.
From his club debut to present day, DJ E.M. has rocked numerous clubs across the country, amid the world. He's fired up the main floors at venues such as the legendary Roxy, Webster Hall and LQ's. His travels include the college and club circuit in New Jersey, Connecticut, Massachusetts, Maryland, Georgia, Florida and Pennsylvania. DJ E.M. has also been a special guest DJ to international destinations such as his homeland of Puerto Rico and a multi-city tour of Europe with award-winning Reggaeton artist Notch. E.M. has also played alongside respected performers such as DJ Funkmaster Flex (HOT 97 FM), DJ Skribble (MTV), DJ Enuff (HOT 97 FM), DJ Cypha Sounds (HOT 97 FM), Vic Latino (XM Radio & Party 105 FM), DJ Precise & L Boogs (La Kalle 105.9 FM) and DJ Tony Touch (Power 105.1 FM).
A club night with DJ E.M. on the turntables is a show in itself. He has a distinctive crowd-reading flair which allows him to perform impulsively and spin unprompted tracks that his audience wants to hear. A natural crowd-motivator, E.M. possesses the talent to spin structured, yet natural flowing and spontaneous sets. No two sets of his sound alike; a trait that not many DJ's hold. His following flocks to the venues at which this skilled and dynamic artist performs. His fans will agree that the name DJ E.M. is synonymous with talent.
To add to his arsenal of talent, DJ E.M. now rocks the airwaves with his Radio Shows, "The Mid-Day Muevete Mix", Saturdays 12PM -1PM, on La Nueva Fiesta 98.5FM / 96.9FM (Long Island, NY), "Friday Night House Party", Fridays 10PM-11PM, & "Saturday Night Dance Party", Saturdays 10PM-11PM, both on Party 100.9FM, Gainesville's Party Station.
His style is unique and his blends will make you bounce, so be sure to catch his radio shows, club bookings, & download his free mixes to help get you through the day!
WORLD FAMOUS DJ E.M. - LOGOS